We've put our heart and soul into every inch of our clinic. We work hard to ensure that every single visit is met with smiling faces and a clean and calm environment.
Meet Our Principal Doctor
Jennifer Melling, DVM
Since graduating in 2009, Dr. Melling discovered a serious soft spot for geriatric patients. This compassionate doctor developed a special interest in ensuring these patients live happily in their golden years.
She's a University of MN Veterinary School alum, but her love of animals goes back to her first job as a kennel assistant. Today, when she's not building relationships with her patients, you can find her tending her garden and boating with her family.
Sarah Marx, DVM
Associate Doctor
Dr. Marx started her career as a veterinary assistant in her hometown of Milwaukee, Wisconsin (yes; this means she is a true cheese head Packer fan), before moving to Minnesota in 2008 to complete her Doctorate in Veterinary Medicine from the University of Minnesota. Since graduating in 2012, she has spent the past years as a small animal veterinarian in Coon Rapids with a large interest in internal medicine and preventative care. Dr. Marx is known for her soft spot for the misunderstood aggressive animals and bully breeds. Her time away from the clinic is spent with her husband and daughter, boating on the lake, traveling, and spending time playing with her pets – Mylo (Pit Bull mix), Brodie (Pit Bull mix), and her two cats: Ty and Tess.
Olivia Fish, DVM
Associate Doctor
Dr. Fish is a New Jersey native who has always dreamed of becoming a veterinarian, and she got her doctorate in 1998 from Cornell University. She moved to Minnesota in 2005, where she now lives with her wonderful husband, Dr. Jeffrey Fish, three children, their dog (Frank), cat (Carl), and an assortment of freshwater fish. Dr. Fish prides herself on her special interests regarding veterinary medicine. She enjoys dentistry, pain management, and chronic care for geriatric patients. Most importantly, she loves supporting the family bond between pets and their people. She has a special place in her heart in particular for grumpy kitties and misunderstood puppies. Dr. Fish values positive teamwork, commitment to high quality care, and helping to bring the Wellhaven Difference to the community.
Jessica Nelson, DVM
Associate Doctor
Dr. Nelson attended St Olaf College for her undergraduate degree and later received her doctorate of Veterinary Medicine from Iowa State University. She and her husband reside in Maple Grove and stay busy with their 3 young children and 2 geriatric dogs. In her free time, she enjoys outdoor activities with her family.
Her professional interests include surgery, dentistry, and dermatology. Additionally, she has a special interest in supporting families through the quality of life decisions.
Dr. Nelson is ecstatic to be working in her hometown of Maple Grove and providing compassionate care to her fellow residents and their beloved pets in the surrounding area.
Ashley Hansmann
Practice Manager
Ashley has been a Certified Veterinary Technician since graduating from the Minnesota School of Business in 2010. She has many years of experience as a technician and has now changed her career direction to Practice Manager. She is currently on track to obtain her Veterinary Practice Management Certification. She enjoys her role as Practice Manager but also enjoys being able to step into the role of technician. She has had a passion for animal health for as long as she can remember and has always known she belongs in a veterinary clinic.
When she is not at the clinic, she enjoys hiking, camping, and spending time with her three rescue dogs Bubba (Pit Bull), Finnegan (a crazy and very needy Puggle), and Ellie (Pug/Chihuahua mix).
Lisa N.
Lead Certified Veterinary Technician
Nicole R.
Lead Certified Veterinary Technician
Kim S.
Certified Veterinary Technician
Amanda B.
Veterinary Assistant
Lexi M.
Veterinary Assistant
Hunter H-L.
Veterinary Assistant
Cortney B.
Certified Veterinary Technician
Casey C.
Veterinary Assistant
Taylor S.
Certified Veterinary Technician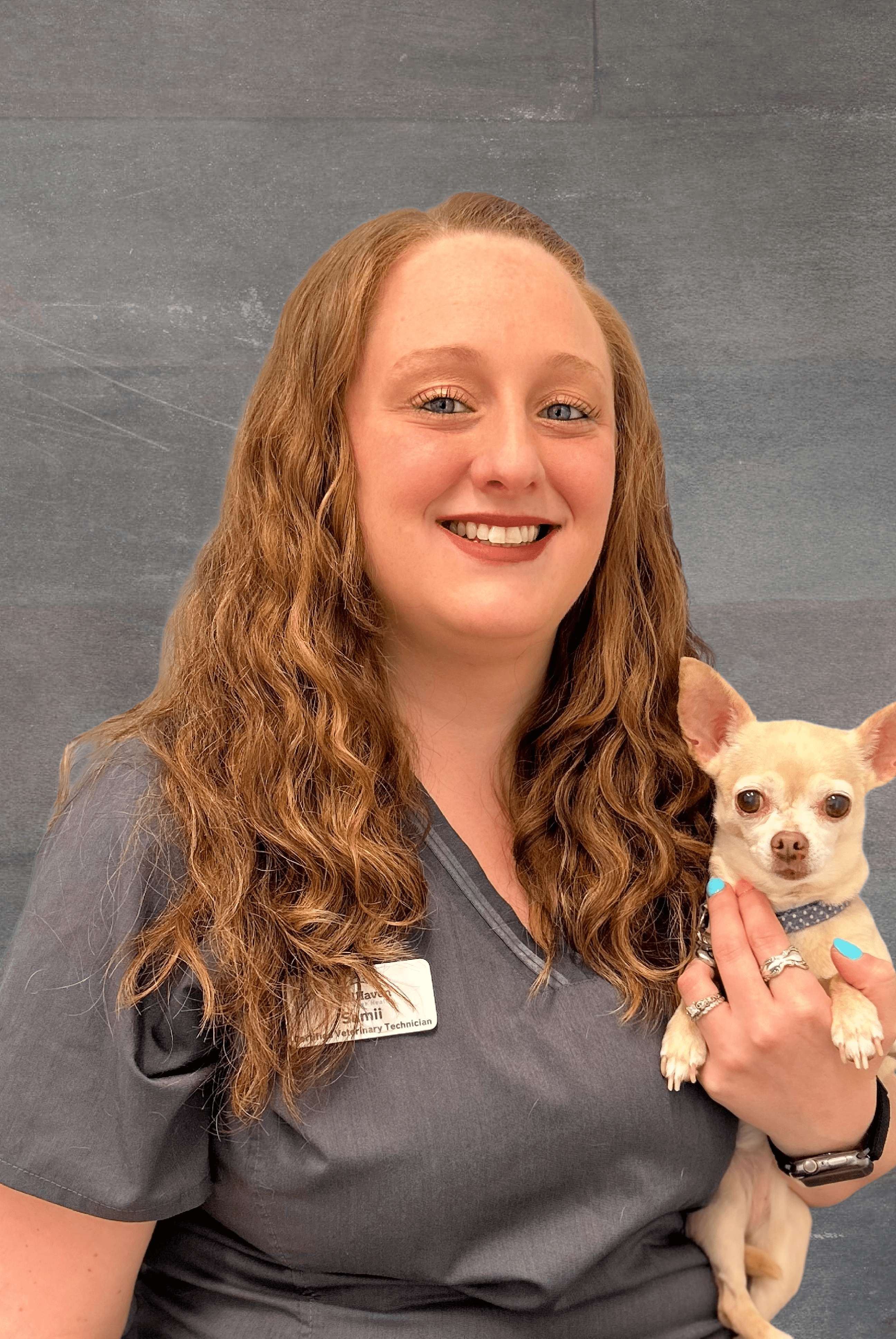 Samii B.
Certified Veterinary Technician
Lien D.
Lead Receptionist
Meghan P.
Lead Kennel Assistant
Maddie D.
Kennel Assistant - Patient Care Coordinator
Olivia B.
Kennel Assistant - Patient Care Coordinator
Click below to request an appointment online in minutes!
(Please note we are a dog and cat clinic only)
Hours
Mon: 7 AM -6 PM
Tues: 8 AM – 6 PM
Wed: 7 AM – 6 PM
Thurs: 7 AM -6 PM
Fri: 8 AM – 6 PM
Sat: 8 AM – 3 PM
Sun: Closed